Exhibition Work
A showcase of stained glass pieces made for specific art exhibitions in Sydney and throughout Australia over the past three decades. These autonomous, non-commissioned works are independent of any building and are often referred to as "Autonomous Panels" for obvious reasons. Some have sold, some are currently on long-term display at various locations, many of them are available for sale. The large panel "Its About Life, Actually" was shown mid-2014 at the Glass Artists Gallery, Glebe, at a joint show with Glebe painter Bek Rice, titled VIBE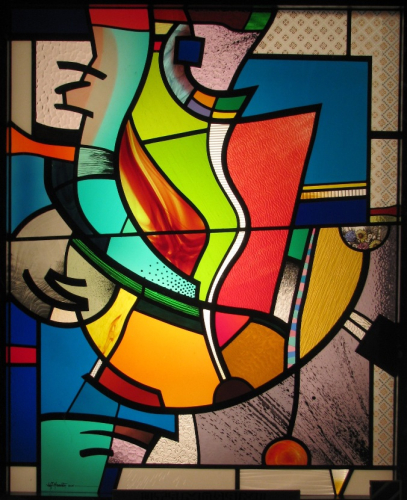 Its About Life, Actually
[The Spark of Creativity]
2005
169cm x 136cm
First shown in Adelaide at the Light Square Gallery Ausglass Members Exhibition, part of the GAS Conference 2005.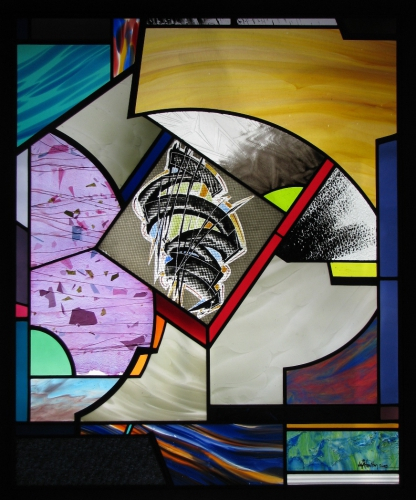 Glass Painting No. 5
2009
110cm x 92cm
Made for the Royal Agricultural Society's Art Exhibition of that year, where it won 2nd prize in the "Cold Worked Glass" section. The Sydney Easter Show has only been accepting artworks in this new section of their Art Exhibition for three years, so I would encourage any glass artists making 'flat glass panels' or engraved glass to participate and help grow this art form.
Glass Painting No. 5 is currently on display in the window of Penrose Glass' grand new factory in Philip St Kogarah.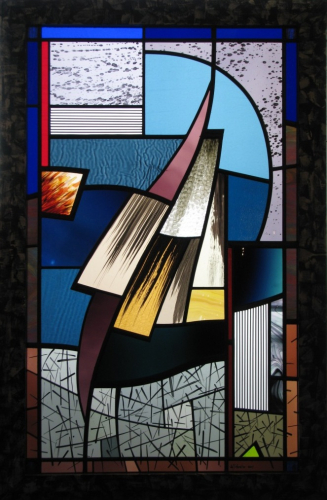 Upwardly Striving
2007
173cm x 112cm
One of two pieces made for the National Stained Glass Exhibition held in June/July of that year at the Wagga Wagga City Art Gallery.
The show was an invitational exhibition showcasing the work of 13 stained glass artists from around the country, including Jan Aspinal from Adelaide, Klaus Zimmer and David Wright from Melbourne and Norman Birrel from Northern NSW.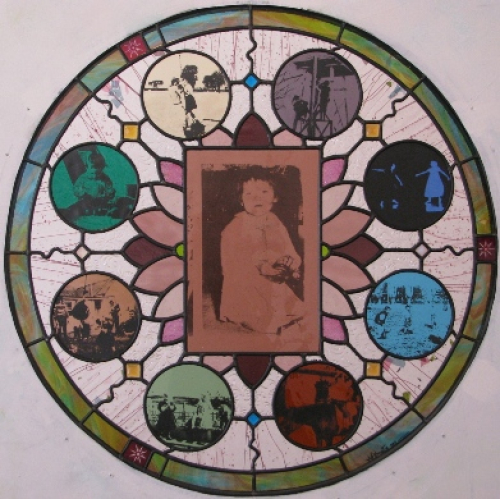 Sweet Innocence
2008
77cm dia.
The composer MaryJane Leahy, tutor at Wollongong University, invited a number of artists to exhibit work which spoke about music for the exhibition Samjjana (also the title of MaryJane's CD) at Global Gallery in Paddington.
I made two works in direct response to her new guitar compositions: the piece shown here, "Sweet Innocence" (about MJ's rediscovery of the innocence of childhood) and "Circus Chaos" which included 'found sound' laid over the guitar.
This work offered the opportunity to explore screen printing with glass paints, a technique I'd been wanting to try for a very long time. The images surrounding the portrait of MJ as a 5yr old are all photos I'd taken years ago of my kids or their friends at play.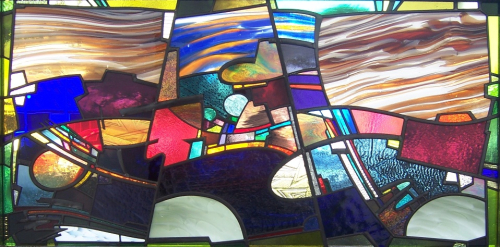 Circus Chaos
2008
100cm x 100cm
This is the other major work made for the exhibition Samjjana at Global Gallery. It was a response to the guitar composition "Circus Chaos". Over the top of the classical guitar are bells and whistles, the sounds of children shouting, street noises.
My idea was to bring my collage sensibility to the glasswork and incorporate non-glass materials which held an aesthetic interest: the perforated metal sheeting, the brass vase cap (used in making lampshades), pieces from an old Meccano set I'd inherited. Basically I set out to have fun and to make a statement about having fun.
I am fascinated by pattern and repetition: hence the extensive use of many old mechanical glasses which have been out of production for years (part of the collection I acquired from Bolton Glass when they closed up shop).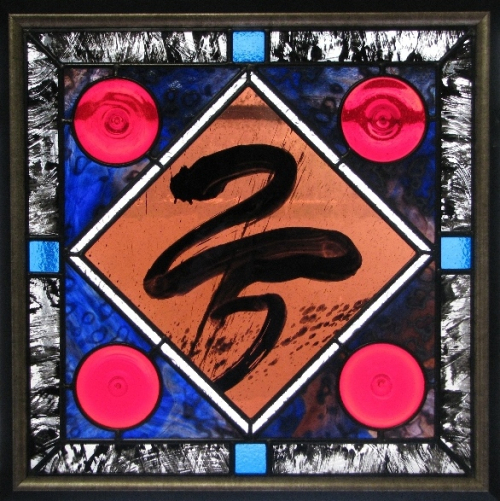 Primal Gesture
2005
58cm x 58cm
Pushing my experimentation with glass paint as an expressive element in abstract art this piece was made for the Ausglass Members' Melbourne Exhibition run concurrently with the Adelaide GAS Conference in 2005.
It's difficult enough displaying stained glass appropriately but doing that at long range it's not always possible to achieve an ideal result; the work was hung against a wall.
It is now on long term display at Ian Dixon's establishment Perth Art Glass in Western Australia (hanging in the window)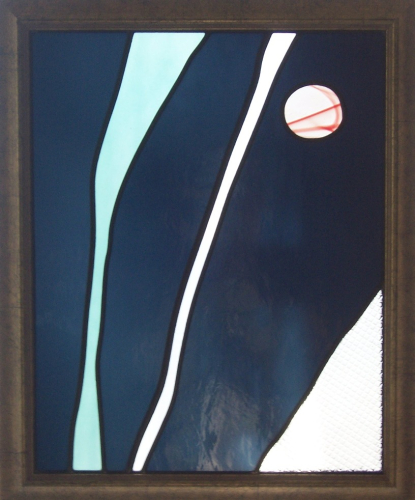 End of Another Love Affair
2002
60cm x 48cm
Many of my artworks describe my personal experiences of Life- both the joys and the heartbreaks. This one attempts to convey the sense of loneliness and loss one feels after the departure of a lover.
Clearly somebody out there understood and related to the work: it sold in 2008 through the lovely Hartley Valley Gallery/Cafe.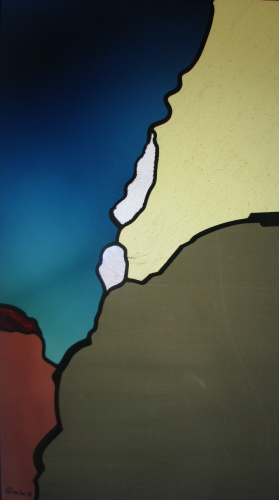 Separation #1 [Earthworks]
1994
99cm x 58cm
Flying above the Earth at various heights has had a profound effect on my aesthetic. In this piece, the first in a series dealing with separation, I explore the separation of land masses by water and the divisions apparent in the landscape as a metaphor for the separation between people.
Separation #1 was made at the end of my marriage of 19 years. Having shown it at various exhibitions I donated the artwork to the Tric Allen Benefit Auction in 2008: it was time to let it go.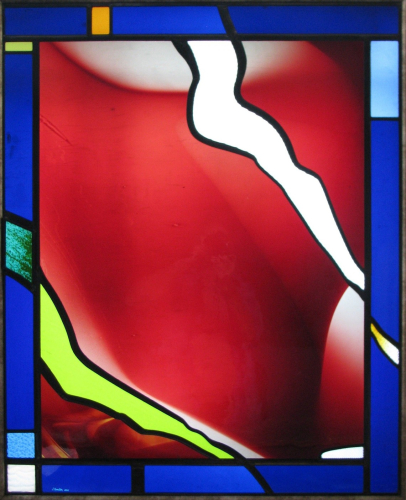 Vibrant Passion
The last in the series, pushing the idea of slashes and gashes beyond landscape, this work celebrates the passion of Life and Love.
It was first shown in my solo exhibition at GalleryM in Adelaide as the title piece and subsequently shown at the Wagga Wagga Rotary Art Exhibition, winning First Prize (Other Media). Most recently it was shown in May 2010 at Kudos Gallery as part of the IDAHO Exhibition.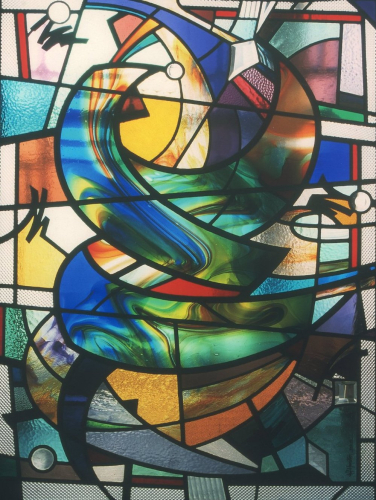 Vigorous, Energetic and Uplifting
Sometimes (rarely) a commission fails to hit the mark.
With this work the clients were with me all the way (or so I thought) up until the glass cutting was complete. At that stage they felt it too hectic- and also the prospective stairwell was to undergo alterations. We did something else together instead.
Since I had invested so much of myself in the work I built it as an exhibition piece and the commission brief "vigorous, energetic and uplifting", became the title of the work. Having shown it in Adelaide at GalleryM it was sold through Kirra Galleries in Federation Square. Their customer pronounced it "the most beautiful thing she'd ever seen!"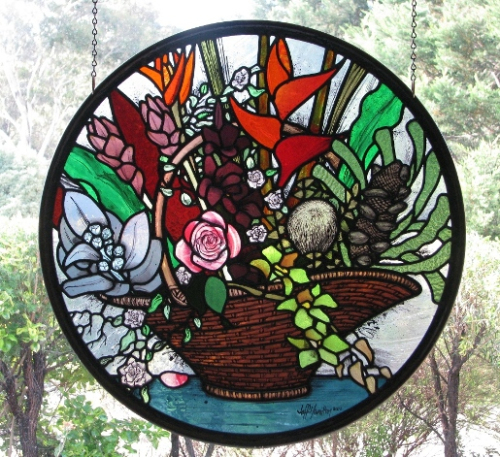 Basket of Flowers
Another one of those commissions that didn't quite answer what the client was looking for and proof that I don't only exhibit abstract work!
I absolutely love flowers and really went to town with this one, purchasing all my favourite blooms and arranging them into a still life (the basket was completely imaginary). Lots of painted detail here to convey the texture of the banksia for instance.
Hanging in the collection of my mother, Betty Sheehy.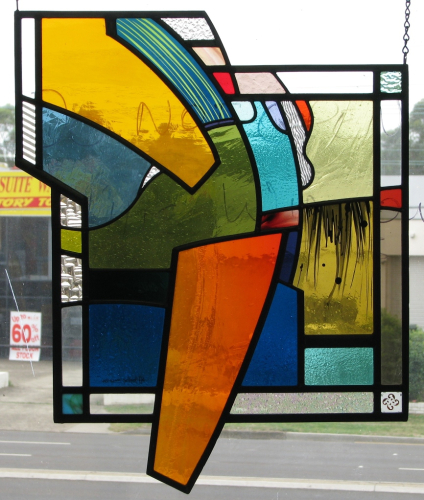 Flash
I will often allow the design to dictate the ultimate shape of the piece, rather than starting with a fixed square or rectangle. Breaking out of those confines allows for a much more dynamic and expressive work. It also creates something virtually impossible to frame.
Flash is in the collection of Finn's Art Glass,a major supplier to the stained glass industry,
located at Revesby.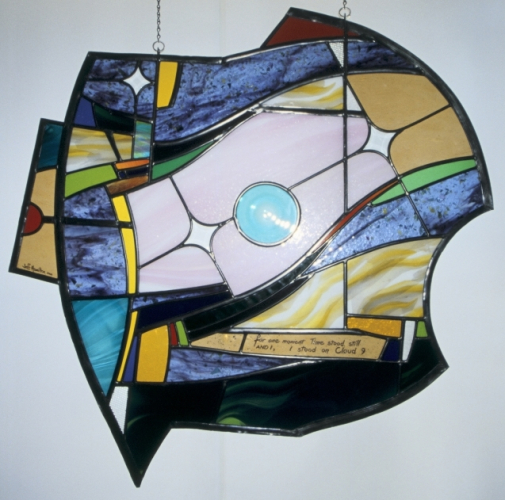 Cloud Nine
Another instance of the design dictating the shape of the artwork. This one's relatively large and unwieldy, so to make it stable over the long term I've made the hanging system part of the reinforcing system, soldering on 10mm steel fins to the lead and wrapping the whole in a copper strap bedded into the external lead calme.
Cloud Nine, an attempt to capture that moment of absolute bliss experienced when in the throws of passionate love, was shown at the Manly Art Gallery as part of "Material Instincts", the Sydney Ausglass Members' Show for the 2005 GAS Conference.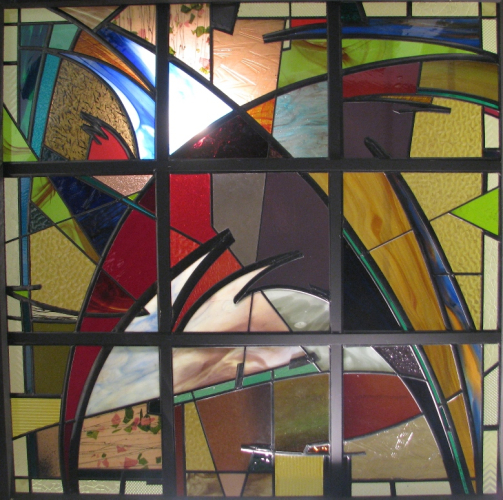 An Investigation into Dubstep
It's all about the music! This is my most recent exhibition piece, made especially for my display at the Australian Designers and Creators exhibition in Old Parliament House, Canberra.
We made a special frame of aluminium T-bar to carry the glass and I lay on the floor of my booth to photograph the work.
Dubstep, deep tribal house, techfunk, whatever you end up calling it, I love the whole genre of base-heavy contemporary music. The rich texture of it, the strident rhythms, the outlandish quirks and samples: it inspires and regenerates me.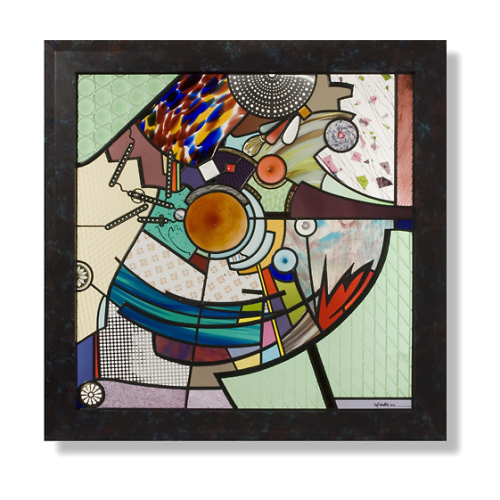 Circus Chaos
Still all about the music! This is a response to another one of MaryJane Leahy's guitar compositions and was made especially for the exhibition Samjjana at Global Gallery, along with "Sweet Innocence"
The design approach mirrored the compositional methodology: a group of musicians sat around the living room recording various sounds ad hoc. These were then built into the piece called Circus Chaos and overlaid with the sounds of children shouting and laughing. In my stained glass, I have used a lot of found object such as perforated metal sheeting, old painted glass and bits from an old Meccano set I inherited.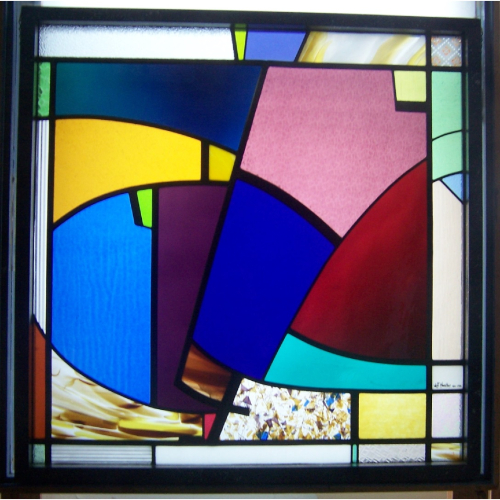 Big Square
Playing with colour, shape, texture, tone, line, repetition and gradation: all the basic elements of design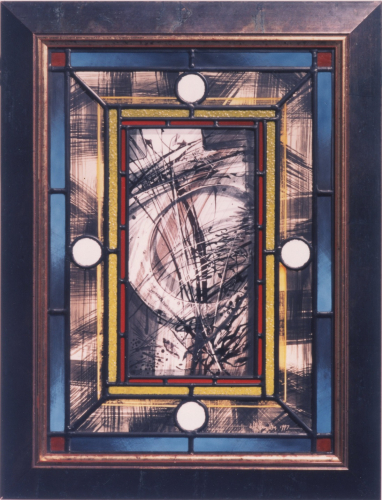 Glass Painting No.1
In each of the three Glass Paintings illustrated here, the central panel
was produced as an experimental painting using textured glass and a
variety of vitreous paints, without any preconceived idea of where the
panel might end up.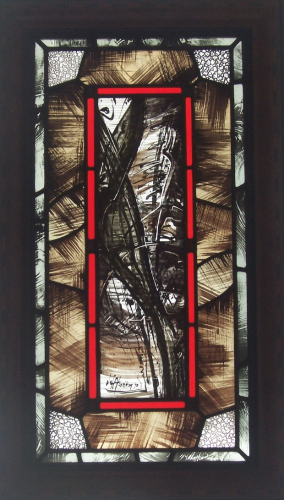 Glass Painting No.2
In time, a decision was taken to incorporate each of the painted panels into a more substantial or complete work. An opportunity arose for further expeimentation in applying glass paint to mechanical textured glass and also to play with geometry and explore various ways of dealing
with corners and framing.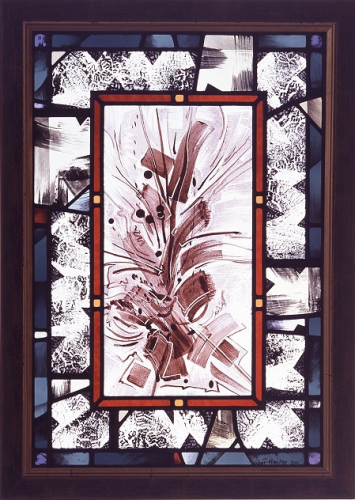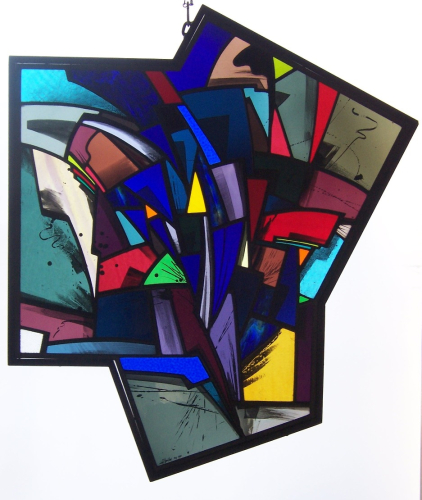 Lament
In a previous life I was married. We had three beautiful children.
This piece was an emotional tribute to what I lost when all that unravelled from 1994 onward.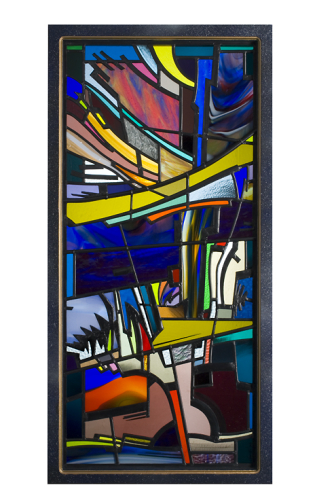 Small Vertical Soundscape
Back to the music: as the title suggests, further explorations of electronic music but at a smaller scale and in a different format (or key).

Shown at the 2013 Ausglass Exhibition at Wagga Wagga City Art Gallery and then later at MAGE, the Mansfield Festival of Glass in regional Victoria. Unfortunately the piece was severely damaged in transit so its currently in limbo.