Restoration of Stained Glass
In restoring old glass, using glass of a similar colour and texture, the artist attempts to recreate as closely as possible the painted work of the original. This is the challenge: to get inside the head of the original artist and work out just how he made those brush marks or those particular scratch marks and stippling, how the drapery works, trying to capture that exact facial expression. Not an easy task by any means but so rewarding when the result is a good one. I've learnt so much about the use of glass paint in the course of restoring damaged windows.
Barmedman Catholic Church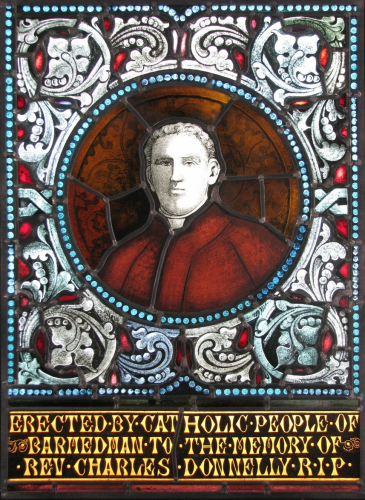 Thanks to a couple of bored 13yr old boys this dedication panel was almost completely destroyed with the main window above it also suffering substantial damage. As is often the case I was subcontracted by another firm, in this case Dove Stained Glass of Wagga Wagga, to carry out the restoration of the glass.
St Vincent's Marian Centre, Lewisham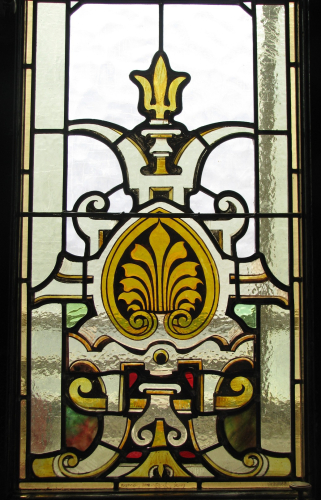 A refuge for mothers and their children, this beautiful 19th century building has suffered somewhat over the years and while charitable institutions such as St Vincent's have priorities other than maintaining heritage buildings, funding was set aside in 2009 for the restoration of the most damaged stained glass in the stairwell.
St Brendan's Catholic Church, Annandale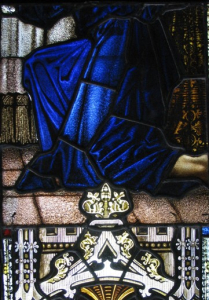 Another instance of teenage vandalism, this time by girls apparently. As often happens in such cases, all that was left of the broken glass were a few fragments to work from. Nor was there any photographic record available of the original window intact. I was subcontracted by A and R Stained Glass in Sydney to work on this project.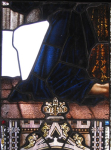 Baptism of Christ, St Brendan's, Annandale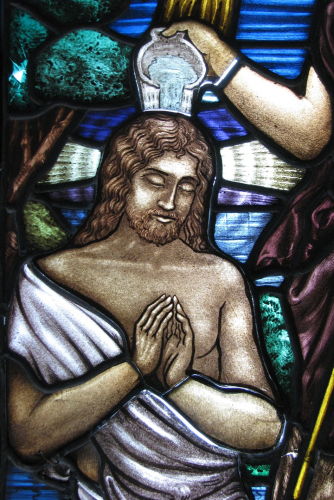 Once again there was little or nothing left to work with, but making a new face of Christ presents a somewhat larger challenge than making a new knee. Fortunately I was familiar with the history of Sydney's stained glass firms. This was an Ashwin and Co. window signed by John Radecke. Martin van der Toorn acquired all the goods and chattels of that firm when he took over the company many years ago. When Martin eventually sold his business and retired, the stock passed to Spectrum Art Glass. Barry Hawkins of Spectrum invested quite a bit of time and money scanning all the old cartoons and collating the data, with such efficiency that I was able to specify a date, a location and a subject and come up with the actual pencil cartoon drawn in 1932 as reference for the restoration. Painting the piece was another matter: the third attempt, shown at right, was a result I was happy with.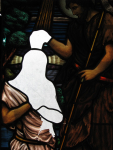 Burwood Presbyterian Church
The impact to this small window to the vestry of Burwood Presbyterian Church was so extreme that the protective wire screen did little to prevent extensive damage to the glass. Reconstructing the inscription panel was a real jigsaw puzzle, it was so smashed up. When reconstructing a damaged glass pane I generally use melted beeswax to stick the bits together onto a glass plate: a very traditional technique taught by my master Stephen Moor.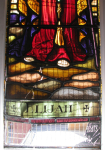 St Albans Anglican Church, Muswellbrook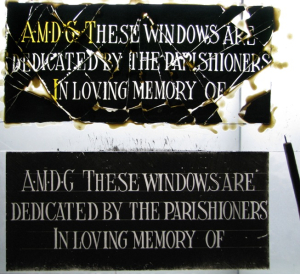 The image to the right shows the smashed up glass reassembled and tacked together with beeswax and the new inscription panel in progress. The process involves laying down a coat of glass paint, or matte, 'badgered' as smooth and evenly as possible using a very soft brush made of badger hair. I mix a small quantity of gum Arabic with the glass paint so that it sets hard when dry, enabling the artist to scratch into the paint and allow light through. You might just see my guide lines in the photo, scratched in lightly. The second layer of matt will obscure these lines and tidy up any imperfections as well as producing a solid black background. The yellow in the initial letters of the original is generally achieved in a third firing (at a lower temperature) by painting on silver nitrate, which stains the glass a golden yellow colour. This is actually where the term "stained glass" originates