Glass Assemblage
Refining a long tradition of collage, with a nod to Victorian Shadow Boxes, these works explore the design concepts of Ikebana using glass as bas-relief sculpture. I utilize `found frames' to make these works but their parameters are broad, sometimes utilizing cardboard boxes, sometimes incorporating found object as well as glass and employing various backgrounds such as timber and, most recently, drawing and photo-montage. While they adhere to all the principals of design these works (like many of my artworks) are playful; they do not take themselves too seriously.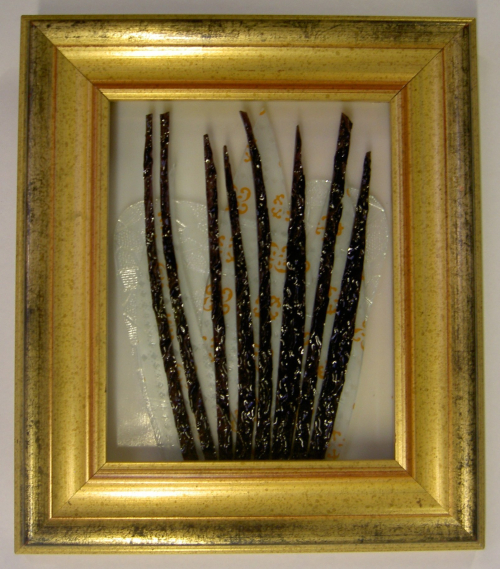 Burgundy Spears on White
37cm x 32cm overall, gold timber frame 2003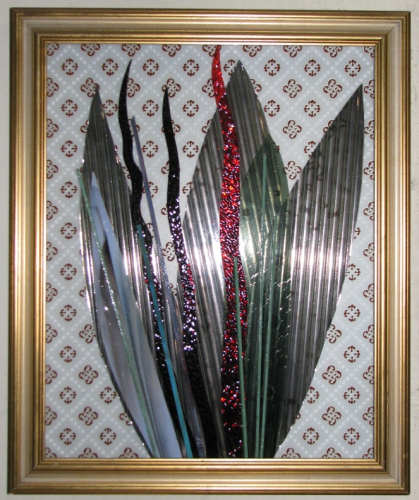 Silver Leaves on Floral Ground
59cm x 48cm overall, gold timber frame 2003
The background glass used in this particular work was created for me by a Melbourne firm some years ago to match a restoration project in Hunters Hill. It uses ceramic screen print process and was a very good match. The bonus for me was the extra glass left over from the job; it's been a favourite ever since.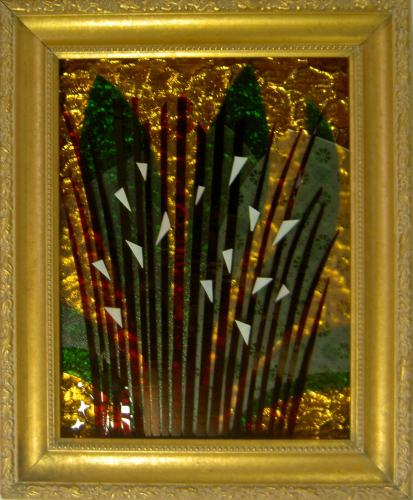 Red Spears on Gold with White Shards
45cm x 36cm overall, gold timber frame 2006
One of the more ornate frames used in this series. With these works I start with the frame, generally a ready-made scavenged from frame makers as a mis-order, sometimes found in the street or in the corridors of the warehouse my studio occupies.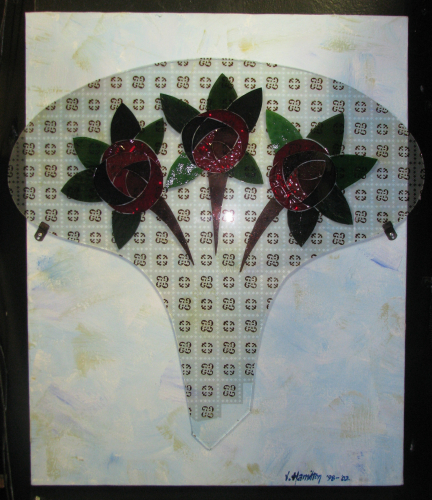 Bouquet
45cm x 36cm 1998-2002
glass on glass suspended over acrylic on canvas
Bouquet stands out a little from the rest of the assemblages. It's an unframed canvas and employs UV curing Loctite as the bonding agent. It's really a precursor to the silicone assemblages.
I created the glass component as an experiment in 1998 but it was quite a long time before I knew what to do with that. By 2002 I was doing a lot of painting ... one thing lead to another.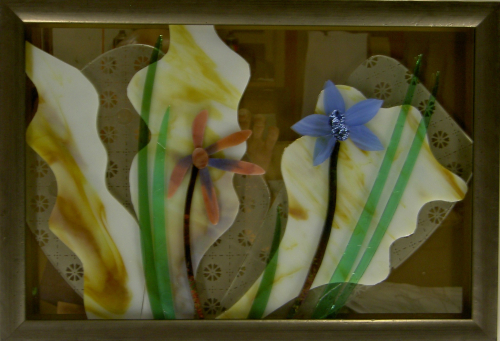 Pacific Kelp and Australian Native Orchids
27cm x 39cm 2011
glass, silicone, gunmetal timber frame
Spent rather more time on this work, grinding the petals of the flowers to fit neatly into each other. Generally the glass components in these pieces are 'clean cut': that is, all hand cut with no edge-processing at all.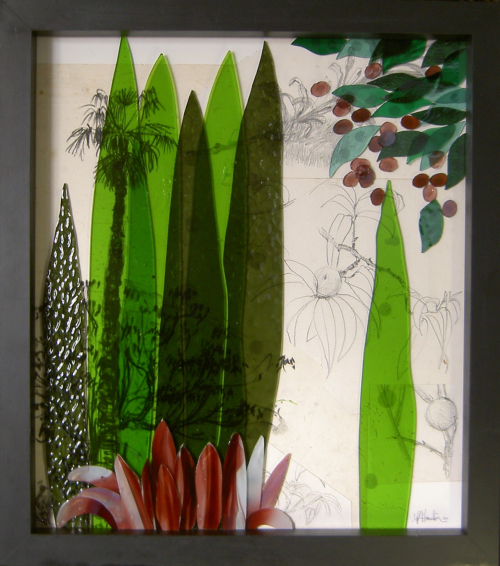 Doryanthes and Syzygium
59cm x 52cm 2011
glass, silicone, black painted timber frame
Pushing the concept a little further for this work I raided my draws full of early drawings, studies for various projects, and used them as a background for the glass collage.
Doryanthes excelsa, or Gymea Lilly, is one of my favourite Australian plants. The flower head is sometimes mistaken for a waratah but it is much more grand and held aloft on a stem about 4 or 5 metres tall.
One of the beautiful handmade Lamberts glasses in my stock shelves turned out to be just perfect for this.
Syzigium is the native Lillypilly, an edible fruit often used in making jam.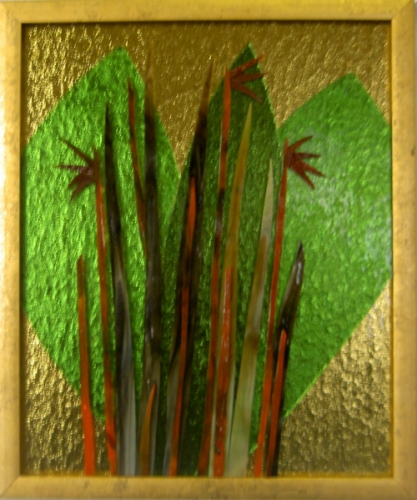 Green and Gold: Australian Native Grass
55cm x 46cm 2011
glass, silicone, gold timber frame