Churches, Chapels and Colleges
A selection of religious stained glass windows commissioned over the past three decades in Sydney, Newcastle and Regional NSW.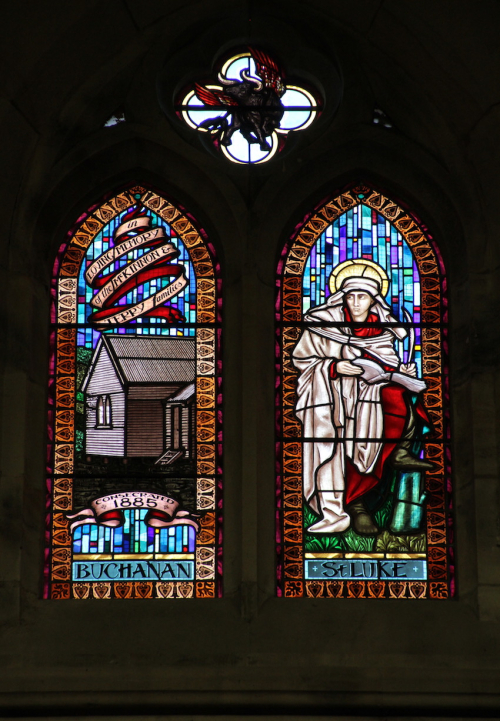 St Luke's Anglican, Buchanan
2016
172cm x 105cm overall
window to Clerestory
St Peter's Anglican Church, East Maitland
One of a series of 6x new double window sets to the clerestory of a grand cathedral, atop a hill in East Maitland, NSW. The series will show representations of each of the former regional Parish churches and a figure representing their patron saint.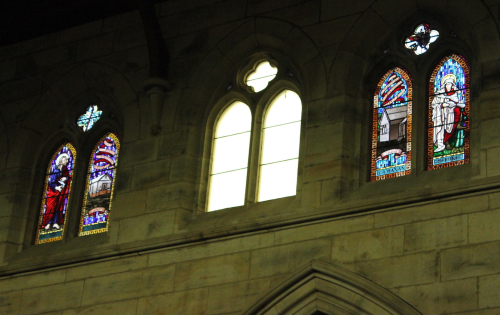 St Barnabas & St Luke
2016
windows to clerestory
St Peter's Anglican Church, East Maitland
The commission for six double windows in the clerestory of St Peter's, East Maitland, was conceived in 2015. Two sets were installed in 2016, two in 2017 and three in 2018. The extra double set represented the Conversion of St Paul and was separate to the set of six describing the regional parishes.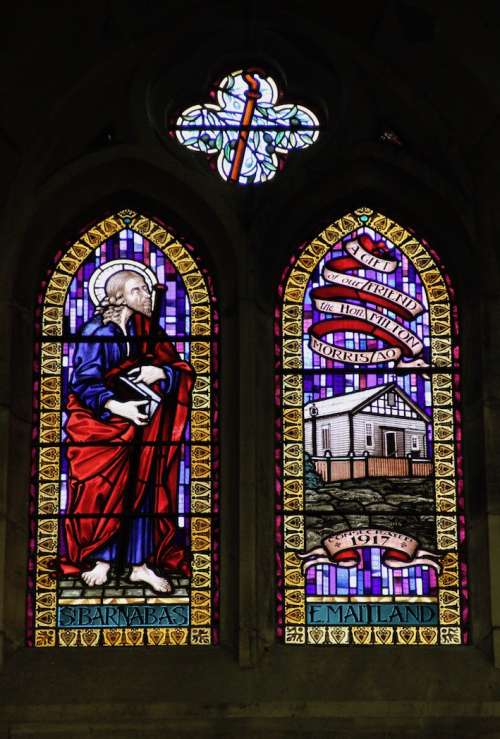 St Barnabas' Anglican,
East Maitland
2016
172cm x 105cm overall
window to clerestory
St Peter's Anglican Church, East Maitland
The St Barnabas' Anglican Church in East Maitland still stands but it has been deconsecrated and sold some time ago. With each window in the set of six small parish churches I am aiming to give the impression of an archival, sepia photograph, which is in fact what I was working from in the case of E. Maitland but also the Buchanan building which was demolished many years ago.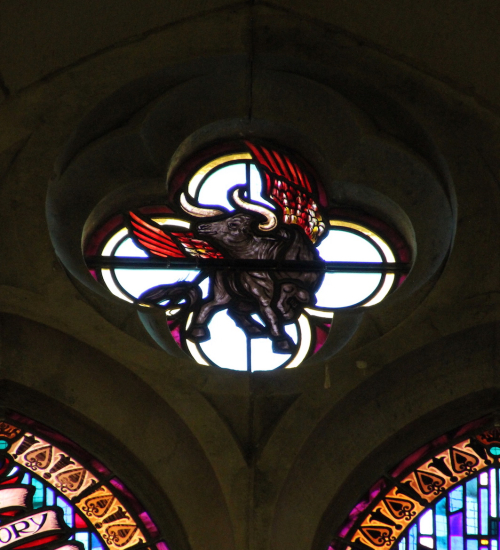 The Evangelist's Symbol
2016
approx. 30cm dia.
quatrafoil to double lancet window
St Peter's Anglican East Maitland
A detail showing the quatrafoil for the St Luke, Buchanan window, where the saint is represented by his animal symbol.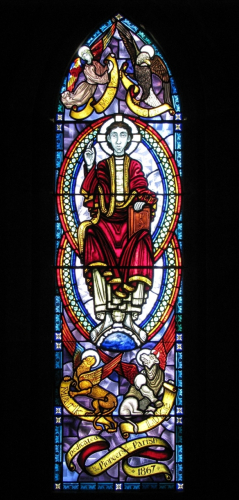 Majestas Domini
2009
201cm x 53cm
window to Narthex
St Bede's Catholic Church, Pyrmont
Installed early Feb 2009 in one of Sydney's oldest Catholic churches, across the road from Star City Casino in Ultimo. The brief called for a lively interpretation of the mediaeval image of Christ in Majesty, surrounded by symbols of the four Evangelists. A special request by the commissioning priest was for a beardless Christ.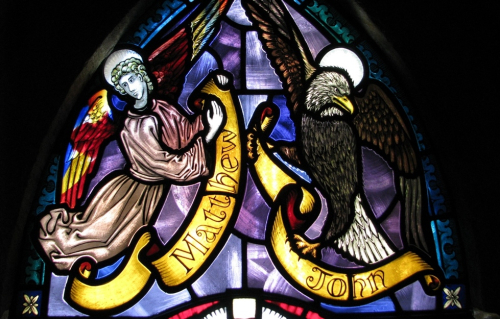 St Matthew and
St John
A detail from the St Bede's window showing two of the four Evangelists represented by their mediaeval animal symbols (St John is always portrayed as a human angel)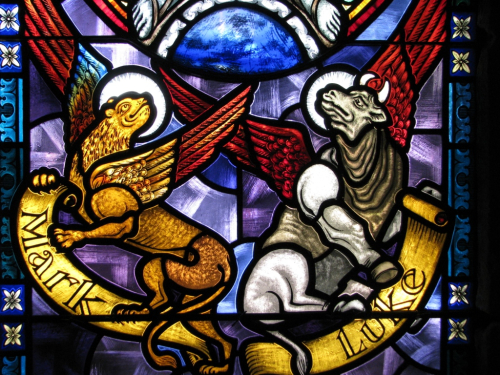 St Mark & St Luke
As with most commissions I carried out a lot of research to find the most appropriate references.
The four Evangelists are from various sources: the angel (Matthew) was derived from a Flemish painting, the lion (St Mark) a much earlier Mediaeval carving in ivory from Cluny, the ox (St Luke) from a stone carving from one of the European cathedrals (can't remember which one now) and the eagle (St John) actually drawn from photographic references of the wedge-tailed eagle.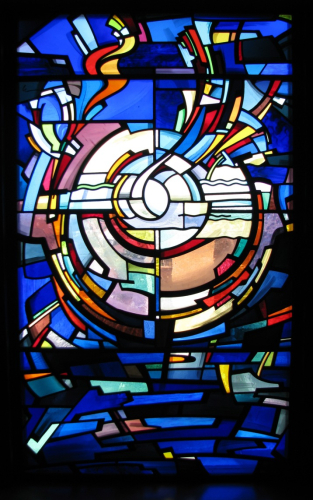 Contemplation Room
1993
153cm x 97cm
Window to side chapel, St Catherine's School, Waverley
This window was a very interesting and challenging one. I was invited to create a work which would bring the viewer, in this case young girls at high school, from a state of stress to one of quiet contemplation and inner peace. My first design was well received but with a caveat: "we think you can do better. And we're giving you additional funds to produce a revised design.
I was somewhat astounded, and abashed, but the attitude of the Principal, her assistant and the architect (Alex Tzannes) was such that it encouraged me toward greater heights.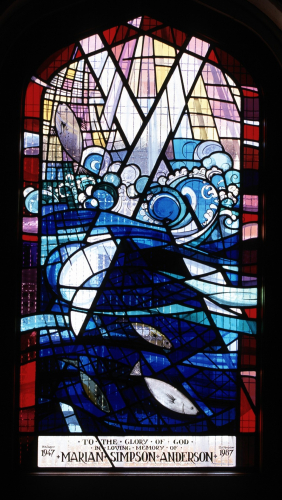 St Andrew's Anglican Church, Longueville
1989
98cm x 49cm
Memorial Window to Porch
This window is a symbolic representation of St Andrew. The dominant feature is the St Andrew's Cross (his instrument of martyrdom). There is also a fishing net drawing up fish, being a literal interpretation of the exhortation of Christ calling his disciples to be "Fishers of men". For a long time I've wanted to emulate Hokusai's wave in glass: this was my chance.

The Armidale School Chapel
2000
176cm x 500cm
Pair of Memorial Windows to Nave
Here was an opportunity to explore text as the principal design element. Marc Grunseit had also installed a pair of windows in the nave of this lovely chapel a few years prior, but all the earlier windows were of 19th century style: beautiful, decorative and quite conservative.
My brief was to create windows in a contemporary style that would bring the Word of God (the text "The fruit of the Spirit...") to a young, modern audience.

The Armidale School Chapel
2000
176cm x 500cm
Pair of Memorial Windows to Nave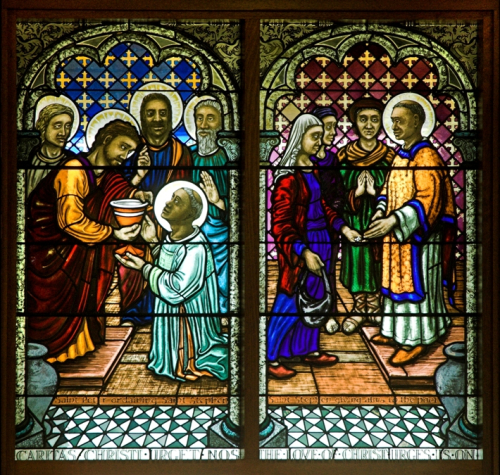 St Stephen's Anglican Church, Adamstown
2003
144cm x 160cm
Double highlight windows over side entry
For this commission I was invited to make a stained glass window based on the Fra Angelico fresco illustrating St Stephen receiving his Orders from St Peter. It was quite a challenge as the original painting is horizontal informat whereas this pair of windows, divided in the middle by a timber mullion, makes for a vertical picture.
The right hand side shows St Stephen distributing alms to the community. I relished the opportunity to embellish the work with architectural decoration and much effort went into developing the full size charcoal cartoons. (Much thanks to many of my friends who sat for portraits)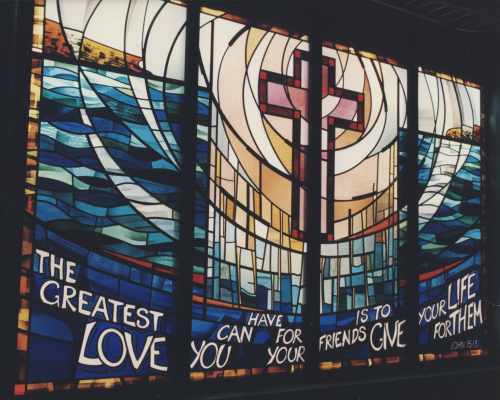 Garden Island Chapel
1997
333cm x 197cm
Window to Memorial Shrine
There is a lot of history on Garden Island. It has been home to the Royal Australian Navy for many years. The Chapel is a two-storey building converted from what was the sail loft, when we had a navy under sail. The jibs for drying the canvas are still in place.
This Memorial Shrine occupies what was once a souvenir shop; the main shop window became this stained glass window commemorating all the sailors lost in service.
To help me clarify the concept for the window I took a ferry ride from Circular Quay over to Manly, so that I could get a good view of North and South Heads. This would have been the last view of Sydney as the sailors left Australia bound for war.
The lettering is sandblasted out of blue flashed glass, a two-layered glass made up of a thin 'flash' of blue on a clear body, and then the glass paint was applied as an outline, firing it prior to leading-up.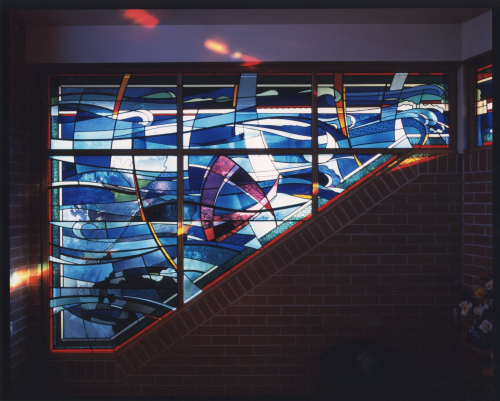 St Columba's Uniting Church, Lane Cove
1995
333cm x 197cm
Window to Chapel (Left Hand Side)
St Columba was an early Irish monk who sailed around the northern reaches of Scotland bringing the Word of God to once Christian communities who had reverted to Paganism. If you look closely you might see a faint outline of the Scottish coastline in the left panel of this large window.
The symbol here is the lower case Greek Alpha, The Beginning.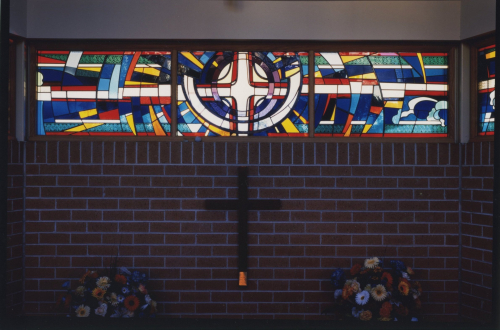 St Columba's Uniting Church, Lane Cove
1995
333cm x 197cm
Window to Chapel (Centre)
So the symbol in the centre of the three panels is a semi-abstract interpretation of the coracle used by St Columba in his travels, superimposed over the cross, which reaches out into the far corners of the two side windows.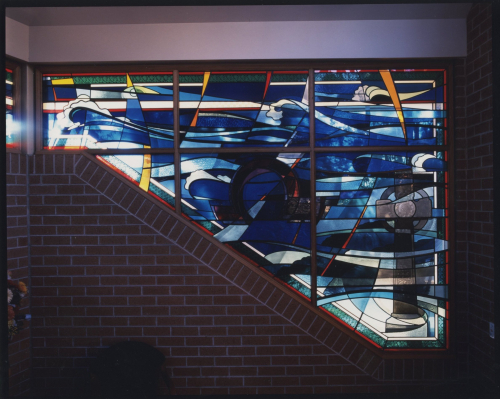 St Columba's Uniting Church, Lane Cove
1995
333cm x 197cm
Window to Chapel (Right Hand Side)
And in the right hand side is the Greek Omega, The End. Also in this window you will see a faint image of a stone Celtic cross: one of these carved crosses was erected at every site where a monastery was established.
The intertwining of Pagan and Christian elements is underscored by a border of Celtic patterning embracing all three windows in the set.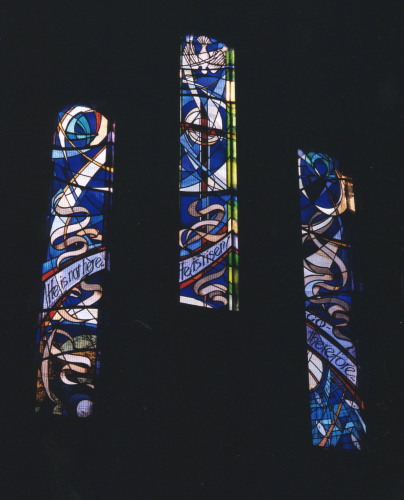 The Resurrection
All Saints Anglican Church, Tumut
1997
346cm x 247cm
Triple Lancet Window to South Transept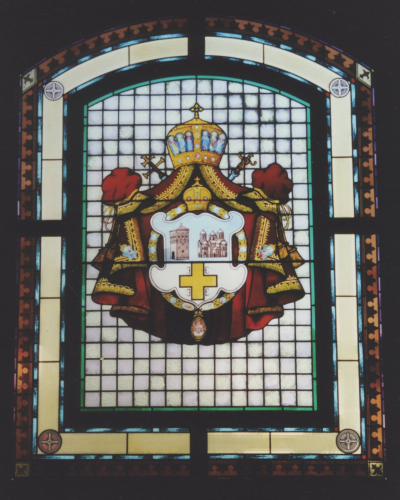 Church Coat of Arms
St Lazarus Serbian Orthodox Church
Alexandria
2000
201cm x 170cm
5x light Joinery Window to Narthex
Fr Rade Radan, the commissioning agent for this work, had a very close involvement in the progress of the window, ensuring all the elements to the design were accurate. He supplied me with some beautifully illustrated historical books as reference material. The Coat of Arms is, in this case, an actual coat worn by the Patriarch of the Church, embroidered in gold thread.
The Patriarch also wears the gold and enamelled crown which surmounts the Coat, and the gold chain. Such highly decorated work requires extensive use of enamels, engraving, painting and staining to achieve the desired result.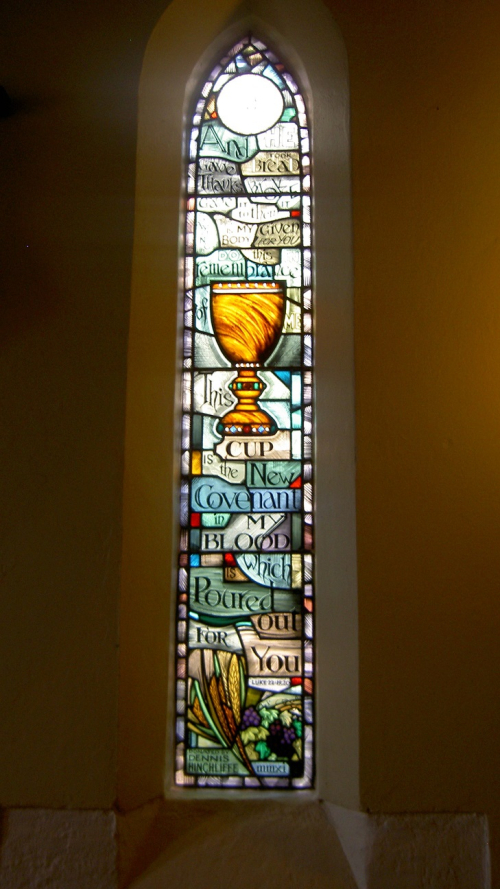 The Eucharist
St Augustine's Anglican Church
Merewether
2010
170cm x 30cm
One of 5x Single Lancets to Prayer Room
The development of a concept for a window scheme can be the most difficult and sometimes the most interesting aspect of a project. My initial concept of referencing the abstract angels of Georg Meisterman, from early 20th century Germany, was roundly rejected by the donor as being too modern.
Eventually, together with Canon Stephen William and the donor for this window, Dennis Hinchliffe, we settled on a scheme which presented the Seven Sacraments over 5x windows.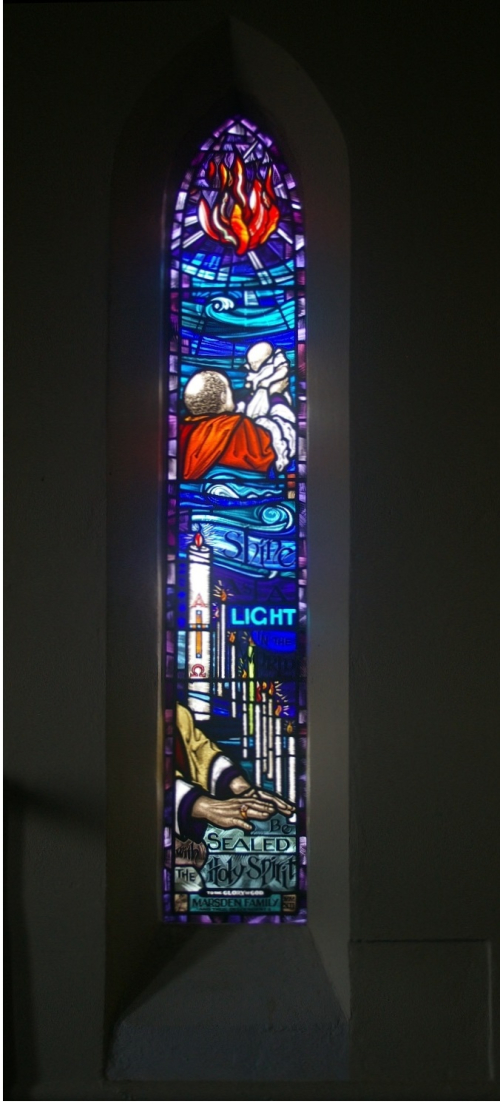 Baptism and Confirmation
St Augustine's Anglican Church
Merewether
2011
170cm x 30cm
One of 5x Single Lancets to Prayer Room
For the second Merewether window we have two of the Sacraments, Baptism and Confirmation, which have a natural affinity, one following the other. Canon Stephen was a tremendous help in guiding me through the design process to achieve a good outcome.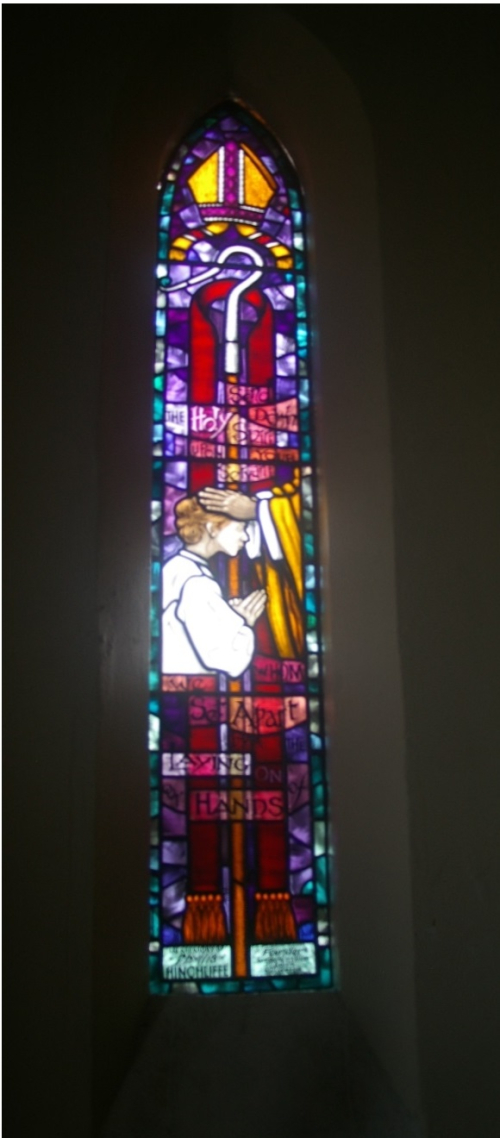 Holy Orders
St Augustine's Anglican Church
Merewether
2011
170cm x 30cm
One of 5x Single Lancets to Prayer Room
Holy Orders is the Sacrament of Ordination, or induction into the Priesthood. It involves the laying in of hands and is officiated by the Bishop: hence the representation of the Bishop's mitre and crozier.
There was a request for a particular crozier to be used but it was actually far too ornate to be of use and some diplomatic negotiations were required before I could proceed with this design. I found the incumbent Bishop of Newcastle very gracious and accommodating.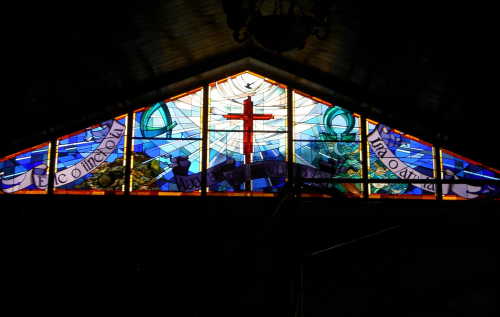 The Resurrection
The Congregational Church of Samoa in Sydney
Lugarno
2011
approx 2.5m x 7m
7x light Fixed Window to Narthex
The Samoan Minister, Fr Taeipo Malifa, was so impressed with the Resurrection window I made for All Saints Anglican Church in Tumut that he wanted a version made for his Church in Lugarno. It was quite an intesting design challenge to rework what was a very vertical design into a predominantly horizontal format.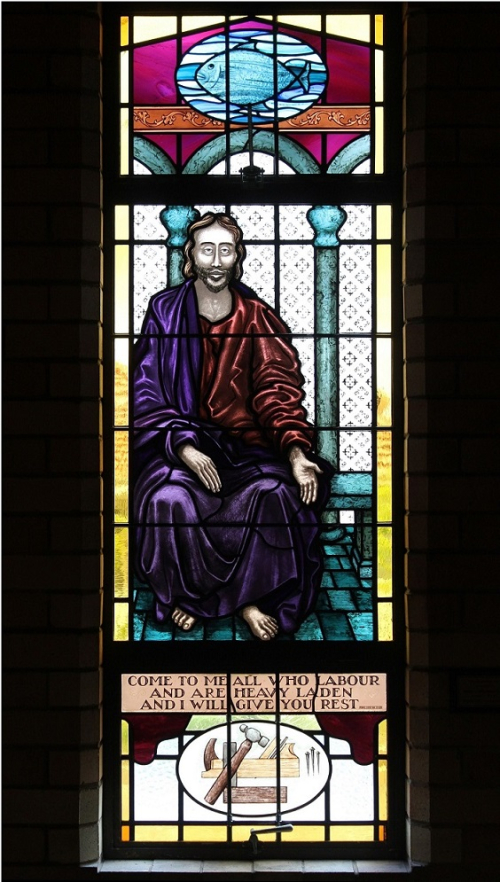 Jesus the Comforter
St Edmund's Anglican Church
Maroubra
2013
1
Window to Lady Chapel
Dedicated to Wally Williamson and donated by his wife Joan. The tools portrayed in the lower ventilation panel refer not only to Christ being the Son of a carpenter (with the three nails of the Crucifixion) but also acknowledge Wally, to whom the window is dedicated and who was always working on the Church to maintain it in good condition.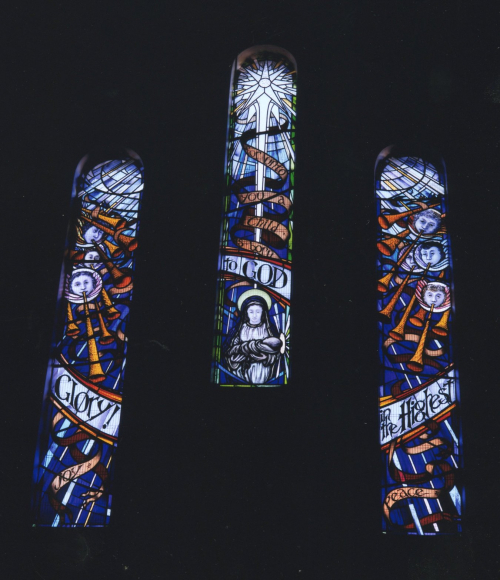 The Nativity
All Saints Anglican Church
Tumut
1999
346cm x 247cm o'all
Triple lancet window to South Transept
I've attempted to portray Mary here not as the Queen of Heaven but as a poor, young Hebrew girl who has just given birth.
The ribbons in this window echo those used in the Resurrection window opposite. Here they serve the purpose of pageantry with the Heavenly Host celebrating the birth of Christ.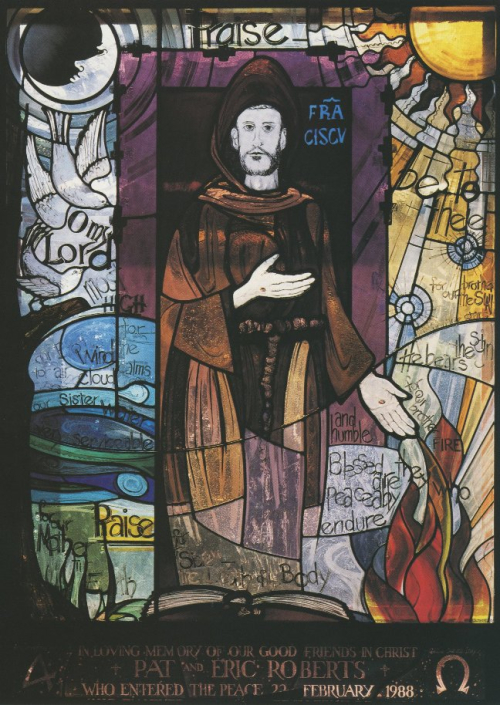 St Francis
St Francis Liberal Catholic Church
Gordon
1991
155cm x 105cm
Window to Nave
Dedicated to two long-serving members of the Church, this window illustrates the Patron Saint, Francis. The design is closely based on what is believed to be the earliest portrait, a fresco in a chapel in Subiaco, Italy.
The surrounding text (the first example of my exploration into text-based design) comes from St Francis' Canticle of the Sun