Lyrical Landscape
18 Feb2013
Have just installed a new contemporary commission for a private residence at Wamboin in NSW (between Bungendore and Canberra). I installed the front door and sidelights late last year; this is the bathroom window. The images below show, from left to right, the full-size charcoal cartoon, the glass all cut and laid out over lights and the installed window. Extensive use has been made of Lambert's mouthblown glass, the same glass that was installed in the sidelights (laminated to comply with Australian building codes) and used in the front door stained glass panels.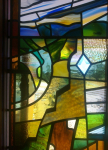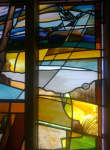 The artwork describes my wonderful two hour walk through the 600acre property where the house is nestled, facing west, and also refers to the music of Australian composers
Peter Sculthorpe and John Antil. Having completed the work for the front
door a few weeks prior I needed to steep myself in a musical response to the Australian
landscape for inspiration in creating the imagery for this window.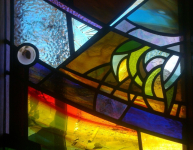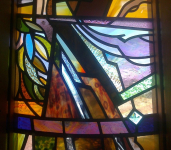 blog comments powered by

Disqus
Subscribe
The Latest Happenings in my World
This blog is where you will find my latest news. It can range from posting images of progress of the current commission to art crit to political or social commentary, both national and international. Anything, basically, that's commanding my attention and I feel is worth sharing with you, my reader. Enjoy. My previous blog can be found at jeffreyhamilton.blogspot.com