False Freedoms by Daniel O'Toole
1 Aug2012
Daniel O'Toole, AKA ears, has leased a space on the 4th floor of Hibernian House, renovated it beautifully and opened a gallery called Soldiers' Road. On Thursday night, 26th July, he staged a solo show of his own work. It's a great show and was well supported with a big crowd of fans.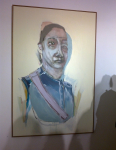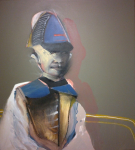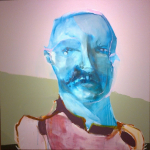 All the works were portraits of soldiers of one kind or another, all rendered in ears' characteristically enigmatic style of showing multiple views of the subject blended into one. O'Toole has been a prominent figure in the street art scene around Sydney for several years now, first coming to notice with paste ups of hand-painted faces built up from vigorous squiggles and line work. He is also a producer of contemporary music, responsible for Free the Beats.
In addition to the large paintings was a delightful collection of small works, several of them bas-relief constructions, continuing the theme of the soldier.
Coupla days ago I managed to engage Daniel in an interesting discussion of the ideas presented here in this body of work. He tells me that the resonance of the subject matter with the gallery name is actually pure coincidence: Soldiers Road comes from the street he used to live in. But there is an undeniable fascination with uniforms and what they represent and the enforcing of rules and regulations as a means of ensuring freedom.
His statement reads as follows:
The themes of uniformity and isolation offer a chance to consider the idea of freedom and identity, as we all at some point, have been institutionalised and held captive by false freedoms.
The uniform represents security and the comfort zone, and the idea that 'the institution' be it self-governing or external offers this comfort. The sense of empowerment of freedom within these constraints is an illusion; a false freedom.
blog comments powered by

Disqus
Subscribe
The Latest Happenings in my World
This blog is where you will find my latest news. It can range from posting images of progress of the current commission to art crit to political or social commentary, both national and international. Anything, basically, that's commanding my attention and I feel is worth sharing with you, my reader. Enjoy. My previous blog can be found at jeffreyhamilton.blogspot.com