​
Australian artist Rhett Brewer showed a new collection of landscape and seascape paintings in oils and acrylics at Project Gallery 90, Oxford Street Paddington for a three week stint in July 2019. I enjoyed the show very much; it was refreshing with many vigorous works full of energy, firmly rooted in the geometry teased out of rock formations and fault lines, juxtaposing mass and horizon.
​
​
​
Rhett and I go back a long way: we grew up together in Sydney's Georges
Hall and subsequently attended Condell Park High School. He then
vanished into the Public Service until we crossed paths once again while
Rhett was teaching Fine Art at the University of Western Sydney
​
​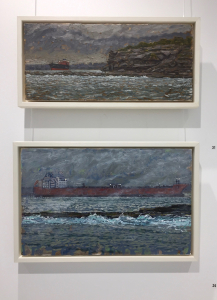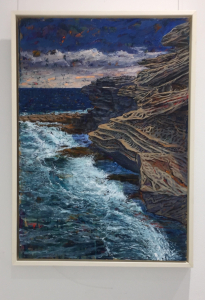 These paintings hover between opacity and transparency and in addition to the spatial geometry I think that's what's so intriguing about them. Rhett's masterful handling of water is clearly evident in Bays entrance. The transparency he achieves in Floating Wall is arresting. And it is literal as well as metaphoric: in the midst of the standing wave, about to break, we are actually looking through a kind of glaze to the under-painting beneath.
​
​
​
As the title of the exhibition implies, all of the paintings are of or around Cape Banks, a very easterly promintory at Sydney's Little Bay. Covering bright sunshine and cold and gloomy days, Sydney's sandstone coastline lives through these paintings.
Subscribe
The Latest Happenings in my World
This blog is where you will find my latest news. It can range from posting images of progress of the current commission to art crit to political or social commentary, both national and international. Anything, basically, that's commanding my attention and I feel is worth sharing with you, my reader. Enjoy. My previous blog can be found at jeffreyhamilton.blogspot.com