Archive for the 'sabbia gallery' category
It was such a treat to catch an exhibition of new blown glass forms by Clare Belfrage at Sabbia Gallery early October. Vieing objects online in virtual shows is a very poor cousin to the experience of being with the work in person, sensing its scale, the relationship to the self and the relationship of one work to another, particularly when grouped together.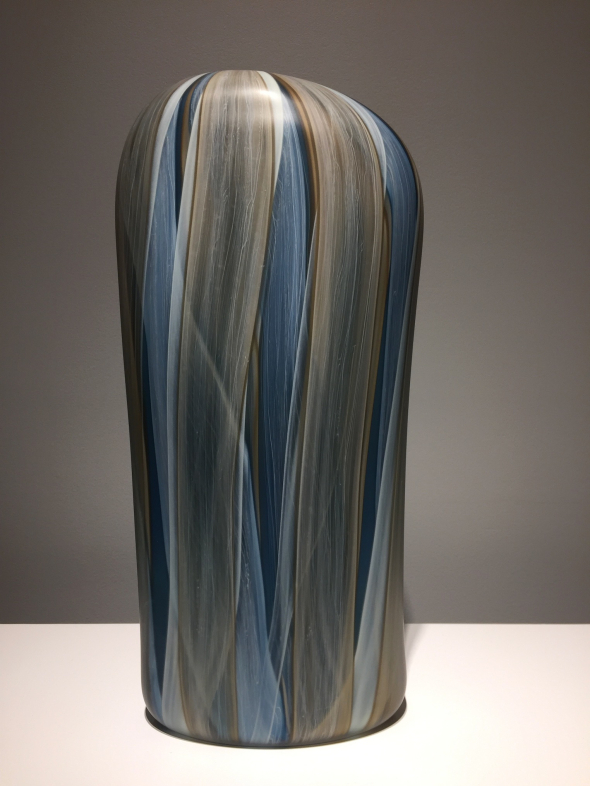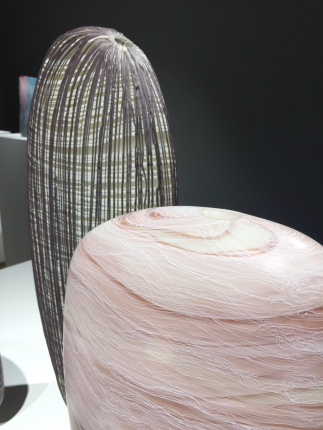 The subtle depth achieved within the surface decoration of the vessel is captivating. Clare's forms carry such gravitas, they are a joy to behold. Being with the work seems to engender a state of meditation.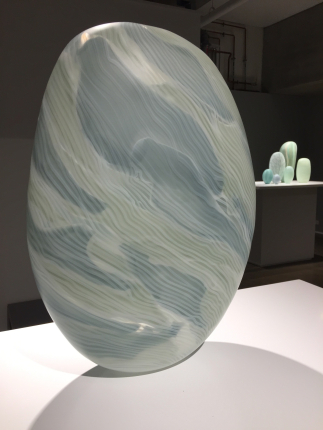 This piece was actually my favourite in the exhibition. Many of the works take the form of large pebbles. This is even more obvious when viewed from above: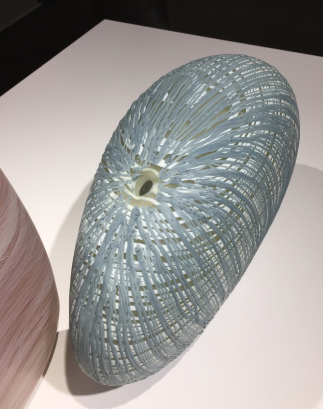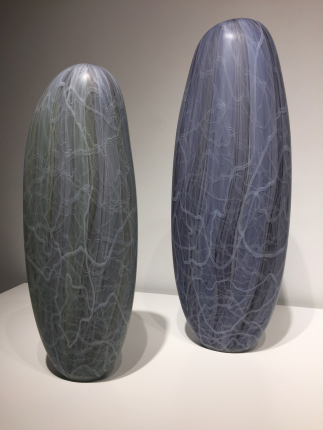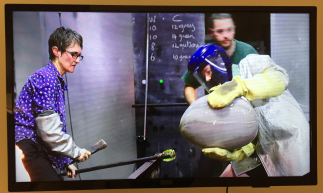 The video accompanying the exhibition was most informative and gave a good insight into Clare's creative processes. The influence of the Australian bush is quite evident when viewing the works. All in all a delightful exhibition. Congratulations to both Belfrage and Sabbia.
Still- like water
​
​
​
​
​
Sabbia Gallery of Paddington in Sydney kicked off 2018 with a resoundingly successful iteration of their annual Masters series, this one titled Sketch. Some of the participating artists responded enthusiastically to the theme, others more obliquely or perhaps not at all.
​
Certainly Matthew Curtis is on the former category with his "Neodymium and Grey Incline" shown above, with a cut-out photograph of him drawing on the floor with his dogs curled around him making what appears to be a shadow cast by the glass tower.
​
Giles Bettison on the other hand has chosen to show us in intricate detail the planning that went into the making of "Chroma 2018 #4" as a framed sketch, while Tom Rowney has sketched the form he has made for the exhibition.
​
Showing by far the largest piece in the exhibition, Jenni Kemarre Martiniello has drawn into and onto the glass and inscribed the names of fallen Indigenous soldiers into her "Gallipoli Pole, 2015"
​
​
Jenni Kemarre Martiniello is well known for her interpretations in glass of traditional Indigenous fish traps. For HOME Jenni has shown pairs of wall-mounted slabs of glass titled Layers of Place.
Emma Varga has ventured into new territory with a tour-de-force of Pate de Verre work, also displayed on the Gallery wall.
Lisa Cahill, who is well known for her beautiful wall-mounted fused and slumped glass sculptures has also produced a series of thick glass slabs infused with multiple layers of illustration
And Brendan Scott French, one of my favourite glass artists, does not disappoint with his semi-abstract landscapes of fused and surface worked panels of glass mosaic.
This is a small sample of the beautiful contemporary glass art on show at HOME. You will find much better photographs than mine on the Gallery website. But the work is even more seductive in-the-flesh: the exhibition continues until February 27th so get along and see for yourself.
You have less than a week to discover the exciting new work of Yusuke Takemura currently showing upstairs in Sabbia's Gallery no.2. Take's work is exciting, fresh and inspiring. Certainly there are nods to a number of masters of contemporary glass sculpture, as we would expect from a young, emerging artist: he nests multiple forms in the manner of Chihuly; he vigorously cuts away large portions of the vessel, echoing Tim Shaw; his work is predominantly clear glass, in common with Ruth Allen and many of the new guard. But cumulatively what we have here is a new body of work, pushing boundaries and exploring personal territory.
And naturally enough the work has a distinctly Japanese sensibility. The simplicity of the blown vessel provides a canvas for complex patterning of negative space, creating an intricate play of light and shadow under the Gallery's spotlights. The judicious use of limited colour pushes the clear glass to a higher key. The finesse of the cut and polished edge is breathtaking: inumerable hours are invested in achieving this standard of presentation. I look forward to observing the trajectory of this talented young artist's career.
Subscribe
The Latest Happenings in my World
This blog is where you will find my latest news. It can range from posting images of progress of the current commission to art crit to political or social commentary, both national and international. Anything, basically, that's commanding my attention and I feel is worth sharing with you, my reader. Enjoy. My previous blog can be found at jeffreyhamilton.blogspot.com