Archive for the 'artist-run-space' category
​
New artist-run-space Ellipsis Gallery opened Wednesday night 13th July to great acclaim. Located on the first floor of 41 Crown St Woolloomooloo, above top-class contemporary Asian fusion restaurant Viand, the gallery's opening hours will be from 4pm- 9pm Wed thru Sat.
Mark Wotherspoon is the artistic force behind the Gallery, which is so new it doesn't yet have a website. Mark was previously a director of ESP Gallery, an artist-run-space in Marrickville a few years ago. I had the pleasure of exhibiting there on occasions. And was thrilled to be invited to show 3x works at Inaugural in Woolloomooloo.
​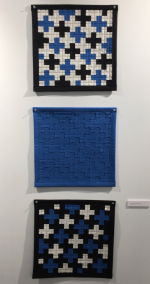 ​
​
​
​
​
​
Musician Brad Bennett's work comprising "concrete sounds, cassette loops & knife" was by far the most conceptual work in the exhibition. Speaking to the erosion of memory, the work employs recordings of Brad's partner's voice while on holidays on Fiji. But the tape is inexorably dragged across the upturned blade of a Stanley knife during the course of the show. It provided the ambient sound for the evening, which was very interesting indeed, and by the end of the exhibition I expect there will be nothing left.
Subscribe
The Latest Happenings in my World
This blog is where you will find my latest news. It can range from posting images of progress of the current commission to art crit to political or social commentary, both national and international. Anything, basically, that's commanding my attention and I feel is worth sharing with you, my reader. Enjoy. My previous blog can be found at jeffreyhamilton.blogspot.com