Archive for the 'paddington' category
​
Australian artist Rhett Brewer showed a new collection of landscape and seascape paintings in oils and acrylics at Project Gallery 90, Oxford Street Paddington for a three week stint in July 2019. I enjoyed the show very much; it was refreshing with many vigorous works full of energy, firmly rooted in the geometry teased out of rock formations and fault lines, juxtaposing mass and horizon.
​
​
​
Rhett and I go back a long way: we grew up together in Sydney's Georges
Hall and subsequently attended Condell Park High School. He then
vanished into the Public Service until we crossed paths once again while
Rhett was teaching Fine Art at the University of Western Sydney
​
​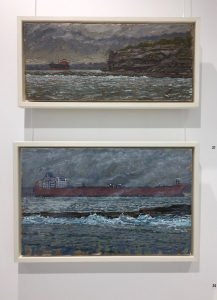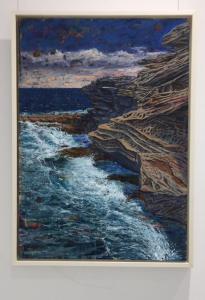 These paintings hover between opacity and transparency and in addition to the spatial geometry I think that's what's so intriguing about them. Rhett's masterful handling of water is clearly evident in Bays entrance. The transparency he achieves in Floating Wall is arresting. And it is literal as well as metaphoric: in the midst of the standing wave, about to break, we are actually looking through a kind of glaze to the under-painting beneath.
​
​
​
As the title of the exhibition implies, all of the paintings are of or around Cape Banks, a very easterly promintory at Sydney's Little Bay. Covering bright sunshine and cold and gloomy days, Sydney's sandstone coastline lives through these paintings.
​
Sabbia Gallery of Paddington in Sydney kicked off 2018 with a resoundingly successful iteration of their annual Masters series, this one titled Sketch. Some of the participating artists responded enthusiastically to the theme, others more obliquely or perhaps not at all.
​
Certainly Matthew Curtis is on the former category with his "Neodymium and Grey Incline" shown above, with a cut-out photograph of him drawing on the floor with his dogs curled around him making what appears to be a shadow cast by the glass tower.
​
Giles Bettison on the other hand has chosen to show us in intricate detail the planning that went into the making of "Chroma 2018 #4" as a framed sketch, while Tom Rowney has sketched the form he has made for the exhibition.
​
Showing by far the largest piece in the exhibition, Jenni Kemarre Martiniello has drawn into and onto the glass and inscribed the names of fallen Indigenous soldiers into her "Gallipoli Pole, 2015"
​
​
​
Internationally renowned glass artist Clare Belfrage has a new solo show currently on display at Paddington's Sabbia Gallery. These works are a lovely iteration of the subtle and refined beauty for which Clare is known. These beautifully formed vessels are full of grace. The delicate almost-matte surfaces absorb light and contribute to their quiet but powerful presence.
​
Drawing Out Time opened on Wednesday 15th Nov, with an address delivered by Gabriella Bisetto, Head of the Glass Workshop at the South Australian School of Art, Art Architecture and Design , University of South Australia. An accomplished glass artist in her own right, Gabriella spoke eloquently about Clare's work and the accomplishments of the Australian contemporary glass community.
​
​
Closing December 9th, this is a delightful exhibition and well worth a visit.
Thursday 14th November saw the opening of a new exhibition of work by Garth Knight, the first Australian artist to show at M Contemporary Gallery in Ocean St Woollahra.
The Director of Head On photo festival, Moshe Rosenzveig, delivered an excellent opening address, describing Garth as an engineer, which I found very interesting. Moshe went on to discuss the dichotomy between 'real' and created or manipulated imagery and, ultimately, the validity of both. Garth's manipulated images depend completely on the real: to create 100 Breaths (illustrated above and below) he wrote a program, took 100 photographs of smoke from burning insence and applied that program to all 100 images. The variation in the results is stunning; the beauty of the geometry breathtaking.
Subscribe
The Latest Happenings in my World
This blog is where you will find my latest news. It can range from posting images of progress of the current commission to art crit to political or social commentary, both national and international. Anything, basically, that's commanding my attention and I feel is worth sharing with you, my reader. Enjoy. My previous blog can be found at jeffreyhamilton.blogspot.com